Refreshment of the "Churches of South Dundas" Mural
Installation Completed 24 June, 2020
The Churches of South Dundas Mural located at intersection of Highway 2 and Church Road Riverside Heights was originally erected in 2001. Over the years weathering slowly eroded the mural's condition. The initial mural was funded by Riverside Recreation Centre and Morrisburg & District Lions Club. Two years ago, spearheaded by Keith Robinson, a refurbishment of this mural was initiated with support from South Dundas Township and Morrisburg & District Lions Club. To see the locations of all the South Dundas Murals Click Here.
The process was as follows:
Pictures of each section of the mural were captured by John Gleed.
He used Adobe Photoshop to extract an image for each 8'x4'panel and ...
Corrected for camera angle lens distortion and scale to precise panel size

Corrected any peeling/stains using Photoshop

Corrected for fading with age and weather exposure using Photoshop
Adjusted colour hue & saturation, brightness and contrast

Sharpened image

Matched edges & colours with adjacent panels.
Finally he produced separate high-resolution images for each panel (96"x48" at 200 dpi) ready for printing. 
Using these pictures Bill Morrow of Sports Fix, printed each image on a 4 foot by 8 foot printer paper.
Then he attached each of these prints to a 4'x8' foam backed aluminum sheet A liquid laminate was rolled over them to seal and protect.
Keith took each print and attached them to 4'x8' sheets of plywood. Sixteen 4'x8' sheets of plywood were used to finish the mural.
The final stage was to attach this completed mural to billboard. This stage required the use of an hydraulic raising platform.
See pictures below: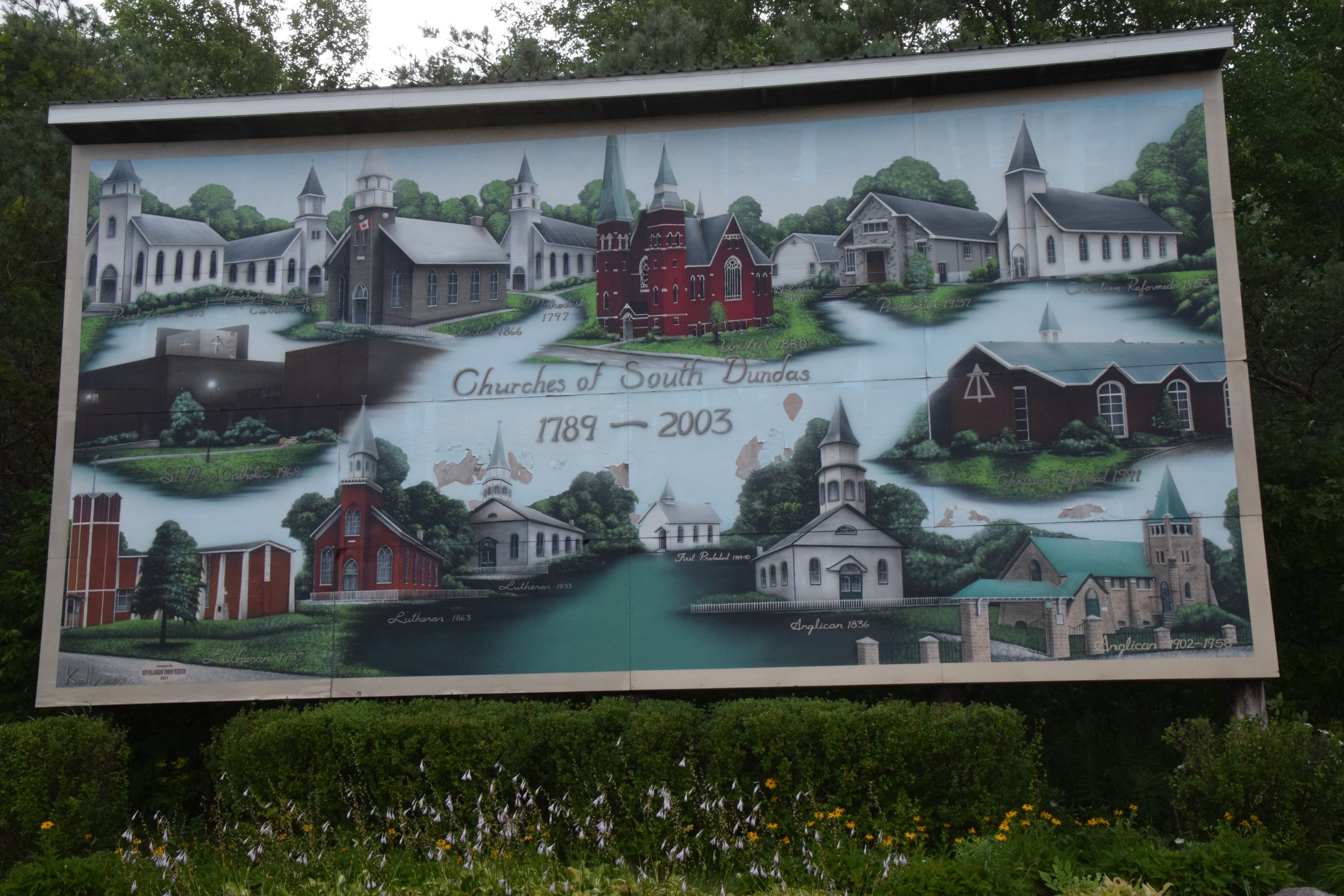 How the mural looked before refurbisment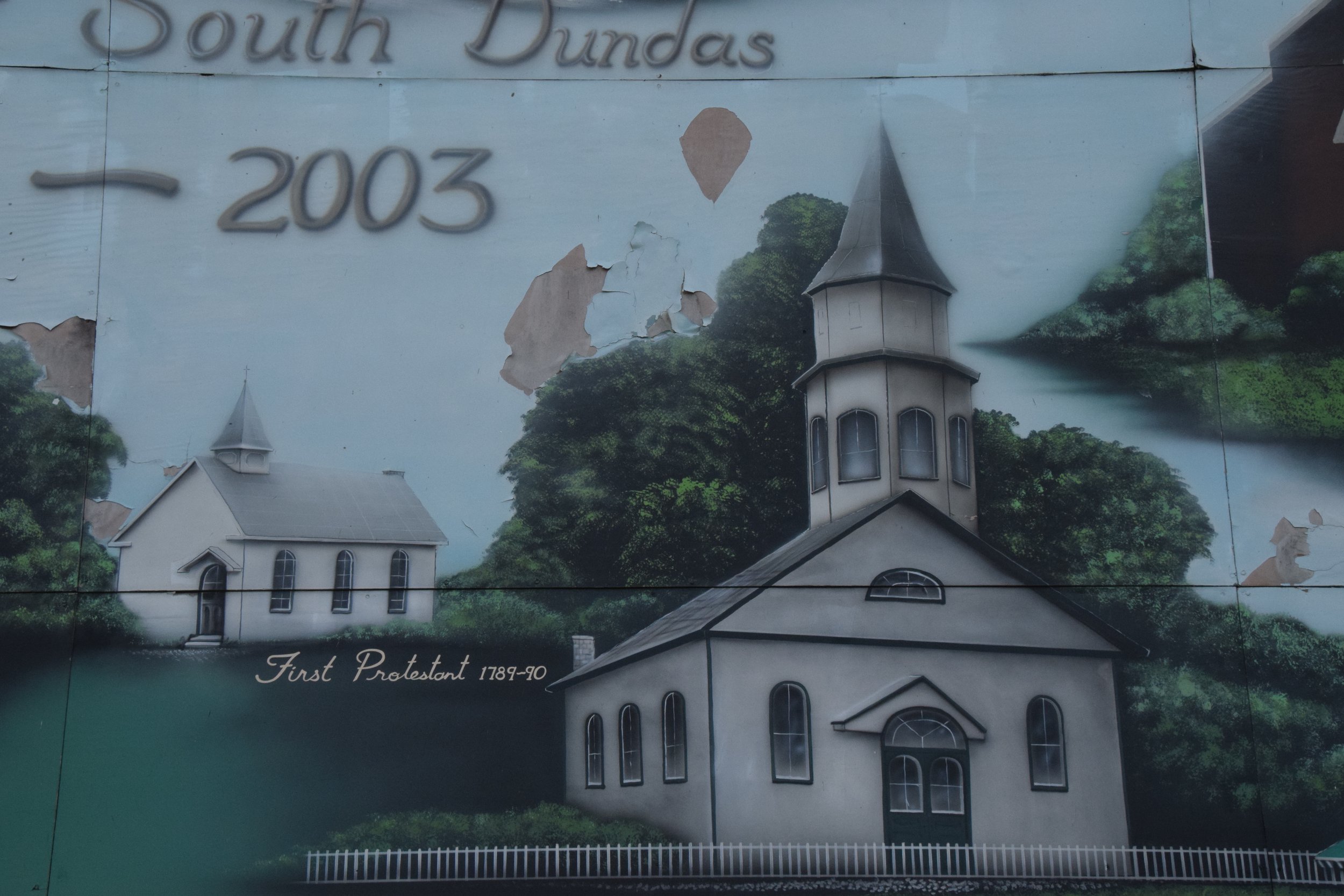 A more detailed view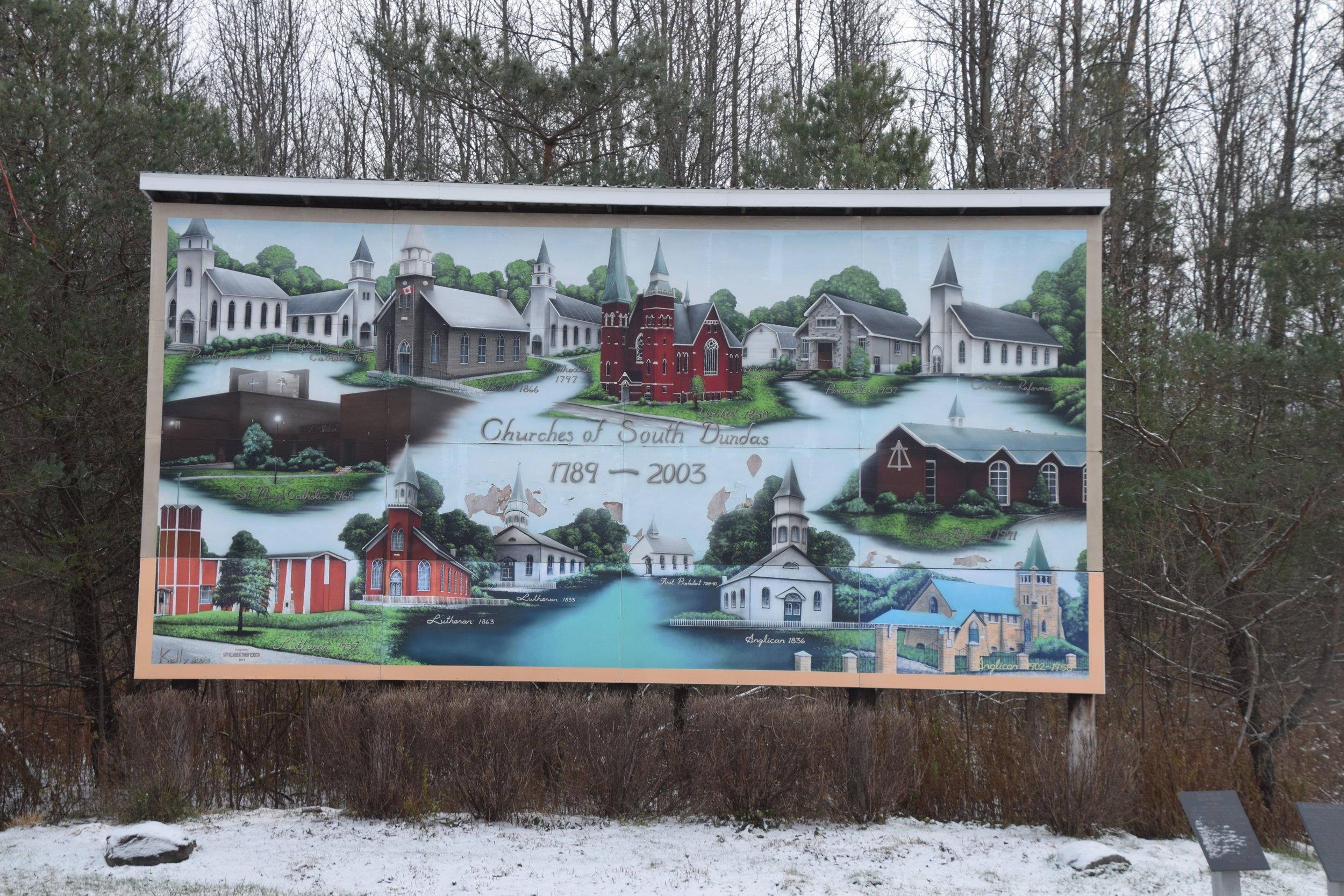 With the bottom row refurbished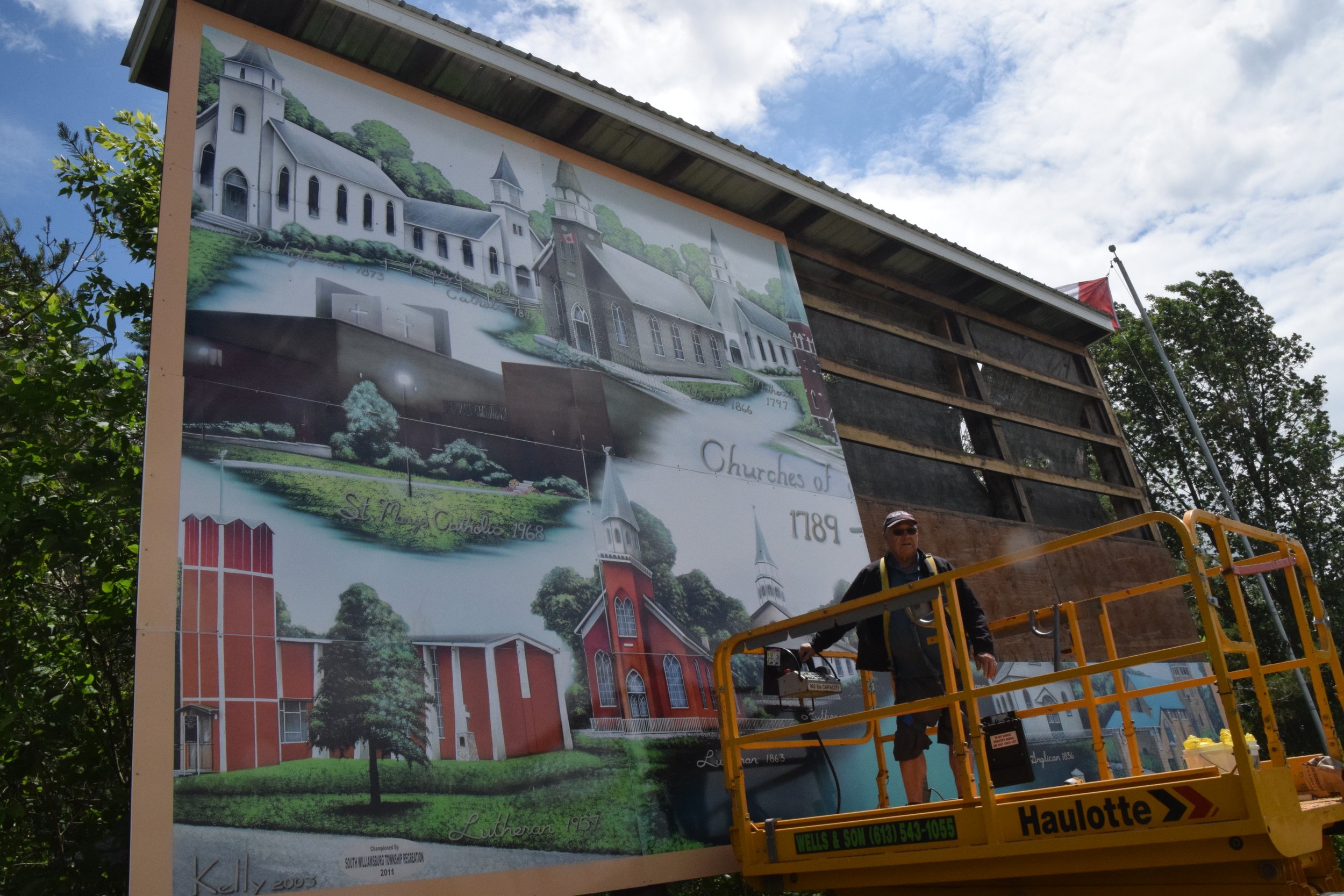 Keith Robinson installing the rest of the refurbished panels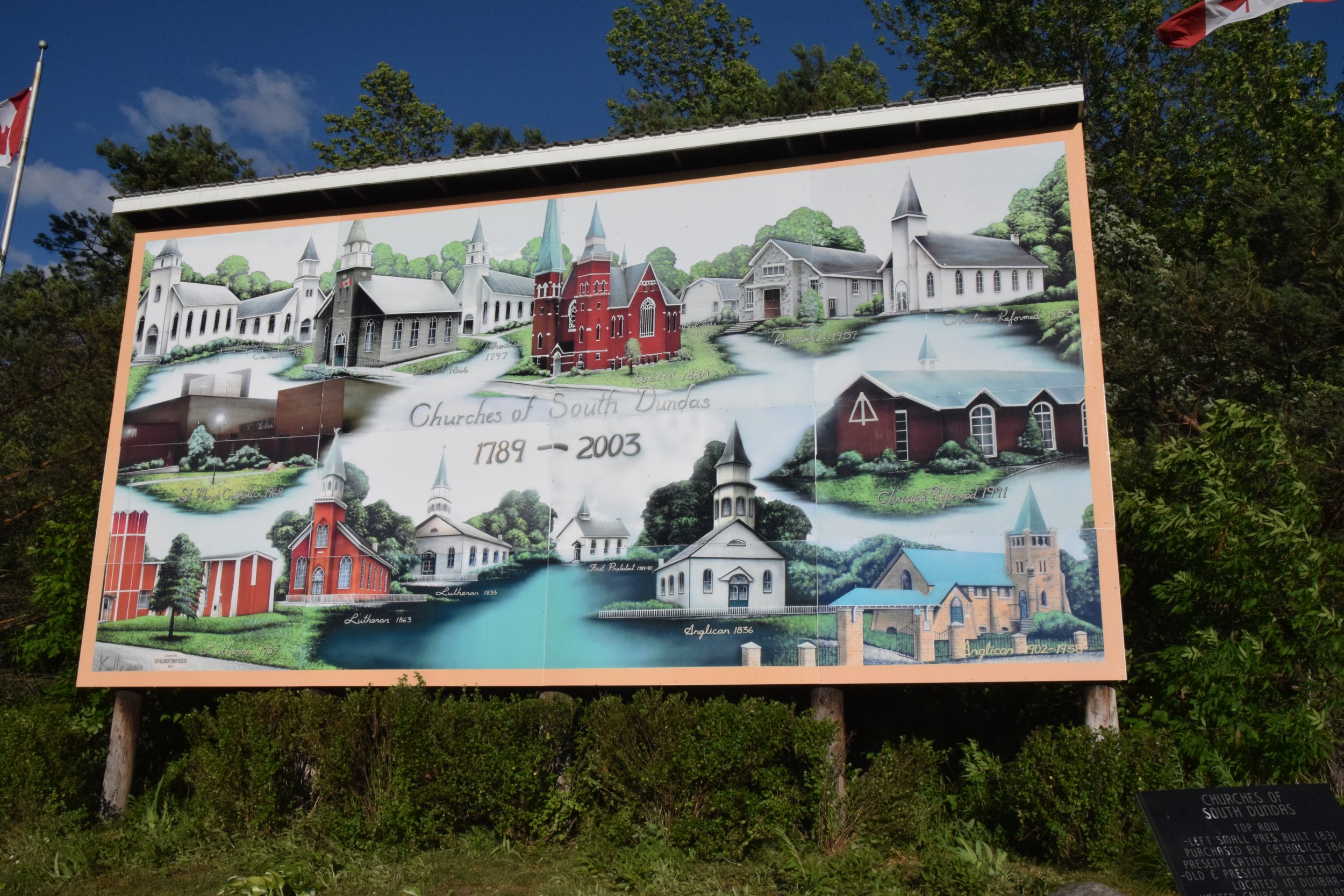 The completed refurbished mural - please go take a look!
We are in the process of using the same approach to replace the House Mover Mural that was located on the Morrisburg Public School (South Wall) until it had to be removed due to weather damage in November 2019. See attached proposal to the Municipality of South Dundas. We are pleased to say the proposal was accepted by council and the project is well underway. The 18 panel pictures (3 rows of 6 4'x8' sheets) have been created and are in the process of being printed by Bill Morrow. We are hoping for installation of the refurbished mural on the south wall of Morrisburg Public School in the fall of 2020.