We made the move to retire in Morrisburg, Ontario in 2008 and now wake up every day with a striking and ever changing view over the beautiful St. Lawrence River.

The objective of this web site is to present the best results from our interests in local history and digital photography, with a special emphasis on the St. Lawrence region.

John Gleed & Rosemary Laurin



We have included photo galleries for each season of the year, for the boats on the St. Lawrence and for the historic & beautiful buildings around the community. We have also included galleries based on two of our passions: Flowers & Food.

Two major sections of this site present a pictorial presentation of the rich history of the region:

- St. Lawrence Seaway History;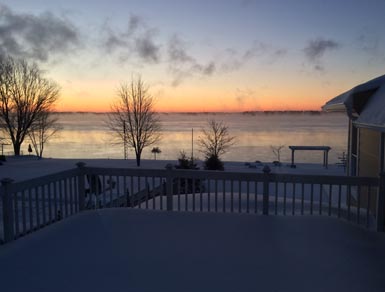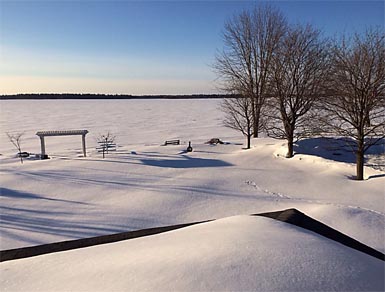 | | | |
| --- | --- | --- |
| We will be continuously adding our best new photographs, adding new galleries and adding new "Virtual Tours". If you have ideas on what you would like to see, we would love to hear from you. | | We are all getting a bit sick of this long cold winter by now. However, it does offer some great photo opportunities - even without leaving the house. And, we can always dream about the coming summer season. |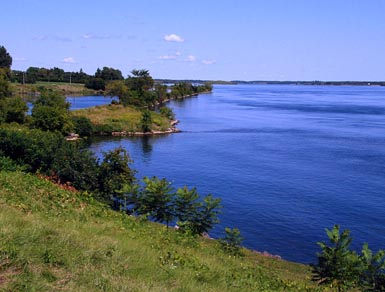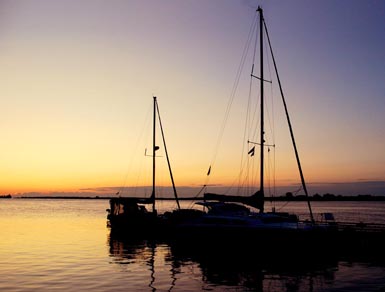 NEWS
March 4, 2014

Morrisburg Map from 1917

Ron Beaupre came across a book of insurance maps of the village from nearly a hundred years ago. It was provided by David Hill from the Hill Insurance Office. Using Adobe Photoshop, I was able to create a detailed map which you can see by clicking on the map on the right. Our thanks to David Hill for his permision to present it here.

Press Ctrl + to get an enlarged view.

August 22, 2013

New Spring Gallery

We have just released a completely new version of our Spring Gallery with thirty spring time photographs from around the area.

August 16, 2013

New Summer Gallery

We have just released a completely new version of our Summer Gallery with thirty two summer time photographs from around the area.

July 25, 2013

The Iroquois Section is now complete!

This is the last part of the Seaway Construction Section. We will be adding new images and updating as we come across new material - so please stay tuned.

July 2013

Seaway Construction - Iroquois Section

We have just started working on the Iroquois Section. We have added 18 maps and images so far. You can see how the construction progressed from 1955 onwards.

June 2013

Canada Day is coming up. If you would like a 36' by 18' flag on your front lawn here is how to easily lay it out. (You can scale it up or down to suit the size you want.)

See our efforts on the North West side of the Cruickshank Ampitheatre in Morrisburg.

For detailed instructions Click Here.

May 2013

We are continuing to add new pictures and information in the Seaway Construction section.

This is still a work in progress (Cornwall-Massena under development right now). We have just added information about the construction of the Snell Lock on the US side of the Seaway.

March 2013

Take a look at the new Seaway Construction section in Seaway History. This section includes maps, pictures and narrative about the massive construction project to create the St. Lawrence Seaway as it exists today (1954 to 1958).

It includes separate sections for the St. Lambert & Cote Ste Catherine Locks, the Beauharnois Locks, the Cornwall-Massena Locks & Dams and the Iroquois Lock & Dam.

November 2012

Plan to attend the Upper Canada Playhouse Christmas Auction on Saturday November 17th at the Morrisburg Meeting Centre.

Three limited edition framed prints from stlawrencepiks.com will be included in the great selection of auction items.

October 2012

We have released a completely new Flowers Gallery containing all our best flower pictures from 2012 - including trips to Barbados and British Columbia. We have also included summer pictures from gardens around Morrisburg.

July 2012

We have released a completely redesigned version of the Morrisburg History Section of the site. It includes four new subsections:

A Virtual Walk down Main Street;
The Waterfront as it was;
Historic Occasions;
Recreation & Education.

We have also added quite a few new pictures - including Lock 23 Flood Day.

June 2012

We have just released a major new section to the stlawrencepiks.com website.

The new Seaway History section presents a Pictorial History of the St. Lawrence River from Montreal to Lake Ontario, from the first efforts to improve river navigation to the present.

The current version has focussed on the period before the construction of the current St. Lawrence Seaway system in the 1950s and includes more than two hundred photographs with descriptions.

May 2012

You can now go to the McIntosh Country Inn on Highway 2 in Morrisburg to see a good collection of stlawrencepiks.com pictures printed in large format on fine art paper (up to 30" x 24"). They are mostly from the Morrisburg History Gallery and are located in the lobby and the dining room.

October 2011

I have used a dawn photograph from Loyalist Park (just west of Mariatown on Lakeshore Drive) as the cover picture for my novel "Earth's New Beginning".

My book has been released as an ebook and as paperback.

The paperback is available from Amazon.com .... Amazon.ca .... Amazon.uk .... Barnes & Noble .... Books a Million and the eBook from
Amazon (Kindle) .... Barnes and Noble (Nook) .... Kobo (Borders) .... ReaderStore (Sony eReader) .... Diesel-ebooks .... Apple iBooks Ap (iPad, iPhone).